ROME, Ga. (June 26, 2020) – Pirelli Tire North America congratulates Farrell Performance's Jason Farrell on capturing the brand's second absolute motorcycle track record bounty of 2020. Farrell set the new track record on the Competition Course layout at Brainerd International Raceway during the Central Roadracing Association (CRA) racing series. The success came while using the recently introduced new, larger Pirelli DIABLO™ Superbike slick sizes, which have been derived from Pirelli's involvement as the tire supplier for the FIM MOTUL World Superbike Championship.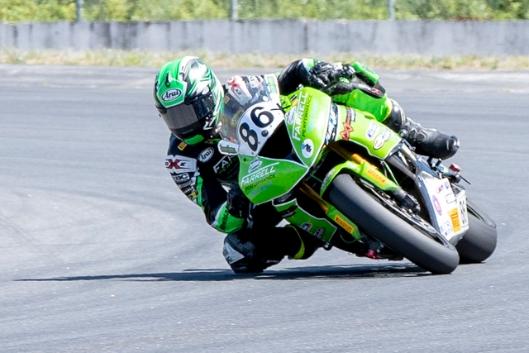 Jason Farrell captured Pirelli's second absolute motorcycle track record of 2020.  Photo: Jim Sendy
"Taking Pirelli's motto 'we sell what we race, we race what we sell', Jason proves his trust in the tires that he sells," said Oscar Solis, road racing manager, Pirelli. "Setting a new absolute motorcycle track record confirms that Pirelli is committed to providing consumers with the very best and does a great job of showing just how good the new, larger DIABLO™ Superbike sizing is. I've worked alongside Jason for many years and I'm not surprised to see him break another record. He's one fast and determined rider!"
Farrell's new lap record of 1:34.870 was set during the Unlimited GP race on Lap 2, topping Kyle Ohnsorg's track record of 1:34.976 that was set in 2018 on Pirelli slicks. Farrell's Kawasaki NINJA® ZX™-10R motorcycle was equipped with Pirelli's DIABLO™ Superbike 125/70-17 SC2 front and 200/65-17 SC1 rear slicks.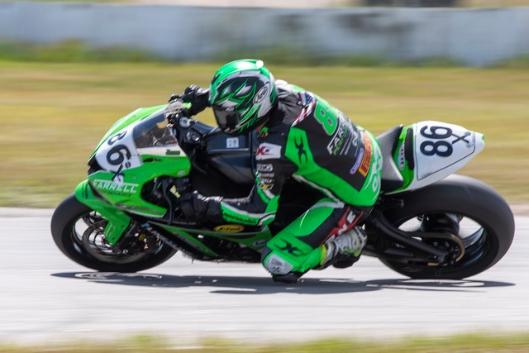 Farrell's ZX-10R was equipped with new, larger Pirelli DIABLO™ Superbike sizing.  Photo: Jim Sendy 
"It feels good to be back racing my ZX™-10R and shooting for track records again," said Farrell. "I couldn't have broken the track record without my Pirelli's. These new 125/70 front and 200/65 rear sizes work incredibly well. Thanks to everyone on my team and all of my sponsors who make racing possible for me. I'm looking forward to the rest of the season."
Pirelli continues to offer a tire credit prize for setting a new motorcycle track record and Farrell became the second rider to earn the reward this season.